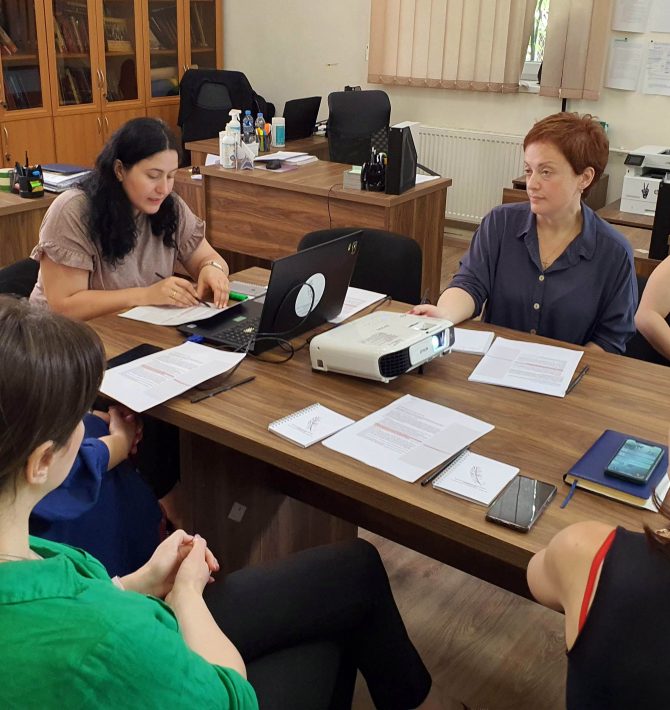 Working Meeting held with the ECE Stakeholders
Within the scope of the Innovation, Inclusion and Quality Project supported by the World Bank, the diagnostic study of the Early Childhood Education in Georgia was conducted.
The international Joint Venture of PPMI Group, UAB /Lithuania, International Step by Step Association/Netherlands with the Centre for Preschool and Inclusive Education at Ilia State University managed the study for eleven months. The diagnostic study included the following: the professional development system of ECE professionals, ECE quality monitoring system, utilization and coordination mechanisms for the ECE sector, school-based preschool services, and other relevant directions to generate a comprehensive picture of the demand and supply-related challenges in designing the project envisaged quality interventions.
With the active stakeholder engagement and considering their constant feedback, the consultancy company submitted the final study results with key findings, conclusions, and recommendations.
Based on the study results, the work on improving the quality of and access to ECE will start in July 2022. An ECE quality monitoring framework and instruments to support school readiness and smooth transition to school will be developed, tested, and introduced. Additionally, a systematic and robust preschool data reporting and consolidation mechanism will be established and incorporated with the EMIS systems to strengthen intra- and intersectoral coordination for ECE. Another important activity of this component will be strengthening the professional development system for ECE professionals. The ECE component would aid in the establishment of a certification and licensing system for existing and novice ECE professionals. Development of in-service teacher training modules on modern child-centered pedagogical approaches that consider gender, diversity, and inclusive education, ECE subject-matter (content) knowledge, and group management utilizing enhanced learning environments will also be created.
The consultant company selected by the international tender in accordance with the World Bank regulations will start accomplishing assignments in July 2022 and work for three years (2022-2025).
On June 17, PMU held a working meeting with the representatives of several units of the MES, who will be involved in carrying out assignments documented in the ToR. The participants discussed the activities and talked about the next steps for close collaboration.