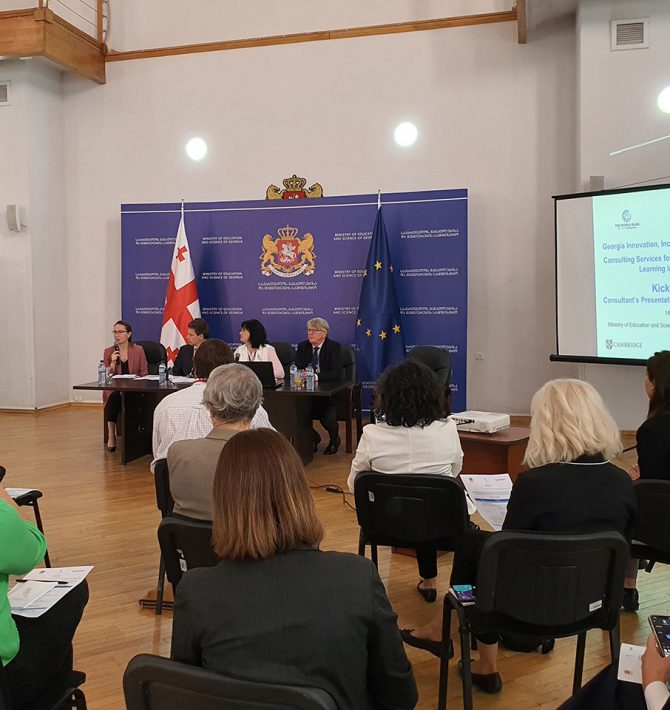 Kickoff Meeting with International Consortium
Innovation, Inclusion and Quality Project, with the support of the World Bank, held a kickoff meeting with the International Consortium members on 14, 2022, in the Ministry of Education and Science of Georgia. International Consortium with the leadership of IBF International Consulting S.A. in partnership with the consortium members: European Projects Management Ltd, The Chancellor, Masters and Scholars of the University of Cambridge, and in sub consultancy with Center for Strategy and Development (CSD) will work on the contract – Fostering Quality Teaching and Learning in General Education through Introduction of Effective Quality Management System, Whole School Improvement Plan, and Programs, Improved Assessment Policy, Practice, and Methodology.
The consortium in close cooperation with the respective structural units of the Ministry of Education and Science of Georgia and the I2Q Project, will work to promote high-quality teaching and learning in selected general education schools in Georgia and includes the following three main objectives: Whole School Improvement: develop a policy framework, mechanisms, and instructions for whole school improvement and support the scaling up of the whole-school improvement pilot; Continuous Formative Assessment of Students: support capacity-building of school leaders and teachers to adapt, develop, and implement school-based assessment practices and National Assessment Policy Implementation: design the mechanisms and instructions to implement, pilot, roll-out, and quality assure the new national assessment policy framework.
John Henly, the international experts' team leader, presented the objectives, activities, and expected results of the collaboration. Representatives of MES and its units, the I2Q Project team, members of the consortium, and international experts attended the kickoff meeting.
The consortium selected through the international tender will work for 42 months on the GE reform supporting objectives.