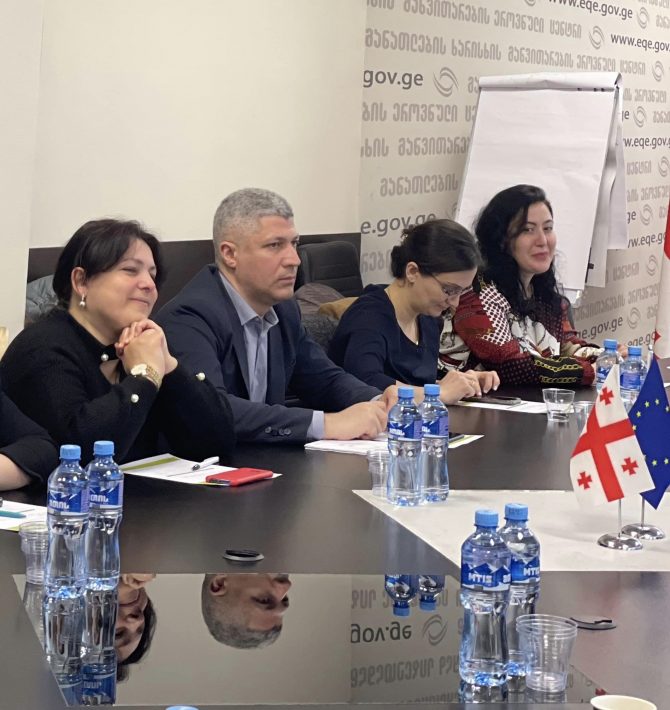 ECE Authorization Coordinating Group to Sum up 2022
On December 26, 2022, the coordination group for ensuring the implementation of the authorization process of early and preschool education institutions summed up 2022. The National Center for Education Quality Enhancement hosted the meeting.
The group members discussed and summarized the activities carried out during the working process. They noted stakeholders' active engagement with one voice. 
The meeting participants spoke about the selection of authorization experts, activities, and the draft rule for membership termination of the expert corps. The attendees discussed the issues related to the kindergarten's self-assessment tools, sanitary and Hygienic norms, food and nutrition norms, buildings, infrastructure, and material-technical base.
Innovation, Inclusion and Quality Project supported by the World Bank is actively engaged in technical regalement revision for Kindergarten Infrastructure and Physical Environment Arrangement.
The meeting was held in interactive mode. At the end of the meeting, Nino Khitarishvili, the head of the group, expressed the initiative to extend the authority of the coordination group. Following the transition period defined by the law on early and preschool education in the coming years, the involvement of group members and regular communication will be much needed.
The representatives of the MES, MOESD, MOH, NFA, TPDC, EMIS, I2Q Project, Private Kindergartens Association, Civitas Georgica, and hygienic, nutrition, and infrastructure experts attended the meeting.